Sharing the love...
This button will take you over to Aly's blog for more information on her Spring Fling Design Challenge! Oooo a spring craft challenge... where to begin?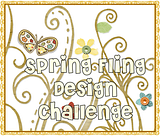 Here are the rules according to her post the other day:
1. Create a Spring themed handmade craft item or piece artwork (any medium; photographs included.)  The item or artwork should be made by you for this challenge.  Please, no previously created pieces, since the challenge is to get inspired and make something new!

2.  Post a picture of your entry at the Flickr group I created for the challenge.  The deadline for photo submissions is Monday, April 26, 2010.

3. As soon as you've posted your picture, please send me an e-mail at alygatr@hotmail.com letting me know you've submitted an entry.  With your e-mail, please include a) your name and e-mail address, b) the name of your entry and c) a link to your photo posted to Flickr.

I will personally choose five (5) challenge finalists and post their names on my blog on Wednesday, April 28, 2010.  Next, I will post a ballot to my sidebar, allowing all readers to vote for their favorite entry.  That's right, YOU will have the final say in who wins the challenge!  Voting will stay open for two weeks, ending Wednesday, May 12, 2010.  I will announce the winner on Thursday, May 13, 2010.

The prize? The entry with the most votes wins one (1) $20 e-gift card to Amazon.com.  How cool is that?  That way, you literally have hundreds of choices of what you'd like to buy.
Good luck, my crafty friends! See ya again over at Aly's challenge!